SFGN's "BEST OF" 2019 CONTEST
The Grand Resort and Spa received three nominations for South Florida Gay News's Best of South Florida 2019: Best Guesthouse, Best Spa and Best Massage Therapist, Robert Nocifora.
Please take a few minutes & vote for us by going to
SFGN.com/bestof
- Fill out the nomination ballot to cast your vote with us and for other LGBTQ businesses in the South Florida area!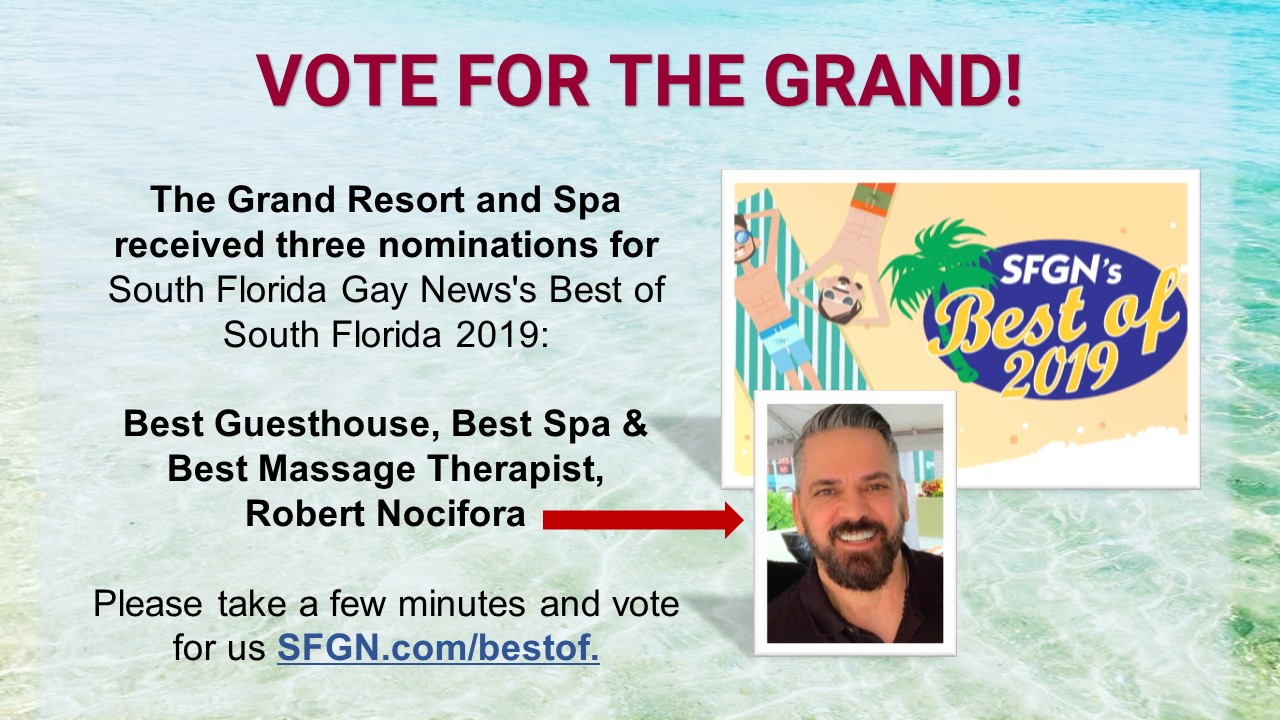 BOOK NOW AND LOCK IN 2019 RATES FOR 2020!!!
Enjoy 2019 rates on next year's reservations – If you book your future 2020 stay by September 30, 2019, you can take advantage of this year's prices before our room rates go up!!!

To make your reservations, visit our

website

or call us at 1-800-818-1211.
SPA SPECIAL: 15% OFF CBD MASSAGES AND CBD FACIALS
Beginning
September 17th through October 31st, 2019
, guests who book CBD (Cannabidiol) Massages and CBD (Cannabidiol) Facials will receive 15% OFF their treatments. Guests who book CBD Massage appointments will receive a complimentary gift of SamWell CBD Body Butter. Guests who book CBD Facials will receive a complimentary SamWell CBD Facial Cleanser and Moisturizer. Also included in these treatments is a $15.00 SamWell CBD Gift Card that can be used toward product purchases on
SamWellCBD.com
.
Learn more about
SamWell CBD Products
. Call 800-818-1211 or 954-630-3692 to book your appointment. Certain restrictions apply. New appointments only. It cannot be combined with any other sales, spa & resort packages or discounts. MM #16572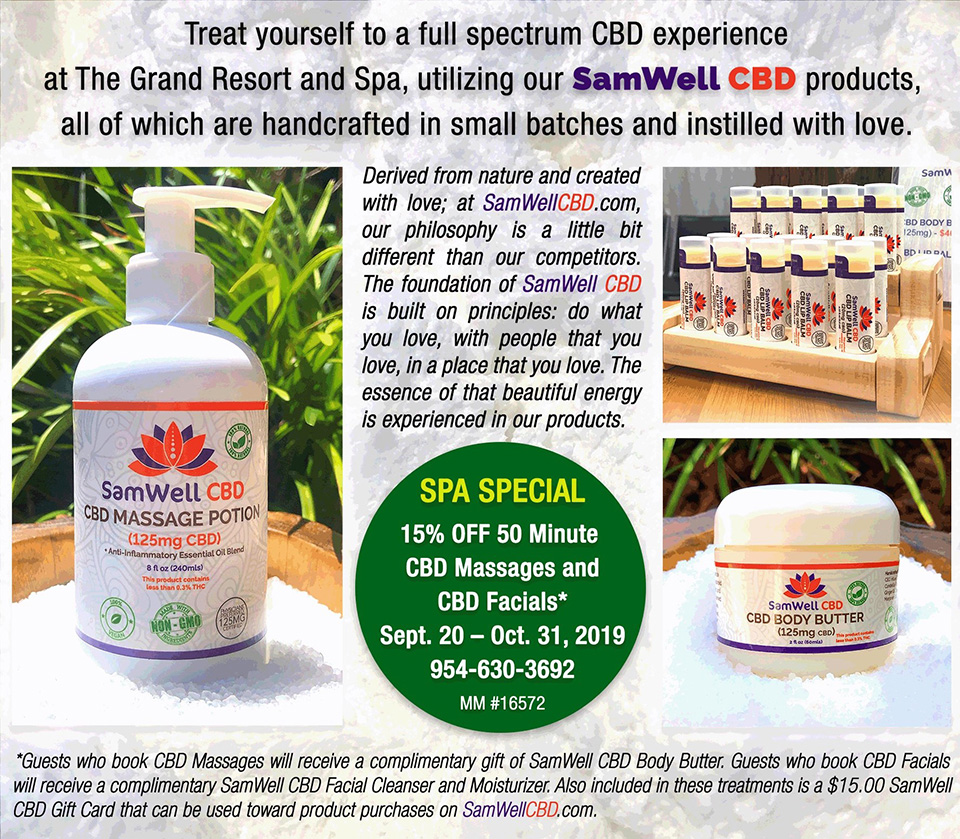 GET YOUR TICKETS FOR THE ULTIMATE BEAR POOL PARTY
The guys who bring you BearSurrection every year will be hosting The Ultimate Bear Pool Party here at The Grand on
Sunday, September 29th from 1 pm to 6 pm!
Resort and Spa guests who reserve rooms and/or make appointments will participate for FREE that day (Food, Open Bar, Entertainment, etc…). Few rooms are left for Sunday, so visit our
website
or call us at 1-800-818-1211 to book!
Attendees will present a valid ID to our security team upon entering The Grand Resort and Spa. Personal knapsacks and bags are subject to inspection. Ages 21 & over only.


The Grand Resort and Spa is a proud sponsor for this festival!!!
Because of its increasing popularity and success, MiFo has been rechristened the OUTSHINE Film Festival, underscoring its brightness, broad appeal and dynamic multi-cultural location. Outshine is everything you want in a film festival... inviting, glowing, and eclipsing all others before it. Our mission is to inspire, entertain, and educate; encouraging a sense of community through international and culturally diverse film, video, and other media that offer historical and contemporary perspectives on the gay, lesbian, bisexual, and transgender experience.
Some of the venues will include The Classic Gateway Theatre and Savor Cinema – both venues are only 5 to 15 minutes from The Grand. Be
sure to use the
Columbus Day Sale Promo Code: GRAND10
for your stay.
Certain restrictions apply. New reservations only. No changes can be made at check-in or check-out. Holiday Weekends and Courtyard Guest Rooms are excluded. A three-night minimum stay on weekends is required.
We are always available to help you plan your next memorable vacation! Give us a call at 1-800-818-1211 or visit our
website
for reservations and information!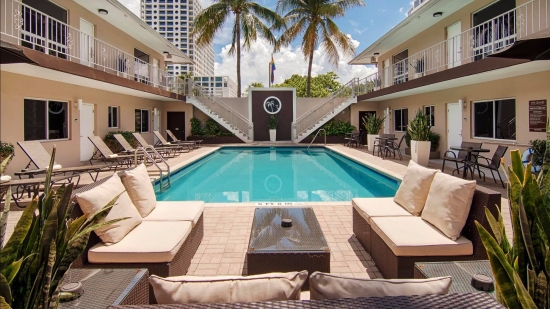 © 2019 The Grand Resort and Spa